DHL Supply Chain has implemented an integrated supply chain solution for Tetra Pak's warehouse in Singapore which features digital twin technology that involves using digital models to better understand and manage physical assets.
It created a smart warehouse solution by combining the Internet of Things with data analytics to bridge the physical warehouse with a unique virtual representation that monitors and simulates both the physical and digital state of the warehouse in real time.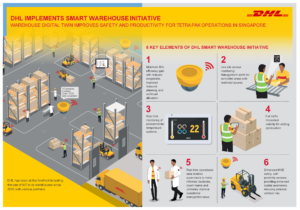 This enables Tetra Pak to maintain 24/7 coordination of its operations to resolve issues as they occur. Access to real-time operational data enables the company informed decisions to reduce congestion, improve resource planning and allocate workload.
A DHL control tower monitors the flow of inbound and outbound goods to maintain time efficiency, ensuring goods are correctly shelved within 30 minutes of receipt, and delivery-bound goods are ready for shipment within 95 minutes.
And a container storage management solution minimises the need for employees to handle heavy containers, reducing operational risks and improve safety.