DHL Supply Chain is to start trials of vision picking in the UK as part of an expanded programme across different industry sectors globally following a trial of the augmented reality technology in the Netherlands.
CEO John Gilbert said: "We are excited to further test and develop vision picking as a solution that can be readily available to our customers. More importantly, this technology is not just one step towards digitalizing manual processes on the shop floor, it also takes us one step closer towards Industry 4.0. Testing technologies like augmented reality, robotics and Internet of Things will continue to be a big part of our DNA."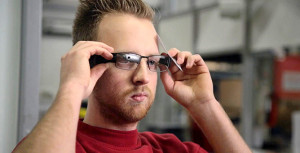 DHL has been working with partners Google, Vuzix and Ubimax to refine vision picking. Pickers are equipped with advanced smart glasses which visually display where each picked item needs to be placed on the trolley. Vision picking enables hands free order picking at a faster pace, along with reduced error rates.
The smart glasses will now be piloted across various industries such as technology, retail, consumer and automotive industries. The data available from these pilots will further determine the technology's potential for broader implementation.
The pilot sites are spread across the United Kingdom, Mainland Europe and the United States. The Ricoh facility in Bergen op Zoom, the Netherlands, where the solution was first tested, will be the launch site for this new exploration phase.
The initial 2014 test in the Netherlands showed a significant increase in productivity, reduced error rates and overall rise in employee satisfaction, proving that augmented reality can make an impactful difference in reality.
"The Vision Picking Programme is DHL Supply Chain's first translation of what augmented reality solutions can look like for supply chains. The broad spectrum in which the technology can be applied across various sectors is exciting to us, and the potential of this technology for business is still largely untapped. We believe this programme is a game changer in how we run our supply chain operations and deliver added value to our customers," said Markus Voss, CIO supply chain.