Marks & Spencer's distribution and warehousing costs increased by 9.3 per cent to £519 million last year, driven mainly by increasing capacity to support growth.
In its annual results for the year to 1st April, the company highl8ighted the opening of a new Food depot in Enfield and Clothing & Home warehouse in Bradford.
It said the balance of the increased costs was largely attributable to increased food volumes and inflation.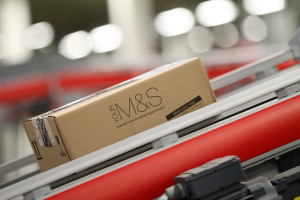 In September last year Marks & Spencer set our plans to reduce the number of roles permanently based in central London by about 400 across logistics and IT, as part of a restructuring of its head office functions.
In its results, it said: "As expected, around half of the anticipated c.£30m cost savings from our Head Office restructuring were delivered during the year."
"Overall, central costs increased by £41m. This was largely driven by an increase in IT related operating costs including higher depreciation from new merchandising systems. A greater proportion of costs are now being expensed as we transition to increased use of cloud based software services."
Food was again the strongest segment of the M&S business growing by 4.2 per cent – although like-for-like sales were down 0.8 per cent. Clothing & Home sales were down 2.8 per cent, like-for-like sales were down 3.4 per cent.
Total group revenue was up 0.6 per cent to £10.6 billion, while adjusted operating profit was down 11.2 per cent at £691m. However, after adjusted items, pre-tax profit was down 64 per cent at £176m.
Chief executive Steve Rowe said: "As we anticipated, the planned restructuring of M&S has come with a cost and has impacted profits, but the business is still strongly cash generative and we reduced our net debt."