Dixons Carphone, the company behind Currys PC World and Carphone Warehouse, is today launching a nationwide campaign to recruit, retain and retrain 7.5-tonne drivers.
In response to an industry-wide shortage and in a bid to remain competitive, the firm is offering a sign-on bonus of £1,500 to new 7.5-tonne drivers as well as paying a £1,500 retention bonus to existing 7.5-tonne drivers. Colleagues elsewhere in the business who choose to retrain as a driver will be eligible for the sign-on bonus and colleagues who refer a friend for a driver vacancy can also secure a £1,000 reward.
The company is additionally placing an emphasis on the upskilling of new drivers. Launched this month, it is running a scheme whereby anyone over the age of 21 who has held their UK Category B driving licence for more than a year will have the cost of their training and tests paid for by the company – an average investment of £1,500 per colleague. The scheme will see candidates complete their theory, Certificate of Professional Competence (CPC) and their practical test, all the while gaining valuable on-the-job training. These 7.5-tonne drivers will also be trained up in health and safety and product installation at Dixons Carphone's brand-new technical training facilities.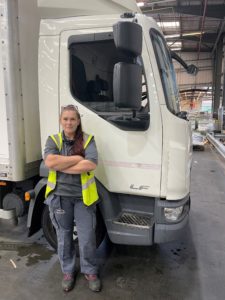 "Our drivers are a vital part of our operation – our ambassadors on the road who perform the mammoth task of replenishing, delivering and installing hundreds of thousands of products every week, serving our stores as well as our customers in their homes," said Lindsay Haselhurst, Chief Supply Chain Officer at Dixons Carphone.
"There is no better time to be joining Dixons Carphone, as we continue to invest in colleagues' skills and reward, and we undergo our rebrand to one business – Currys. The pandemic has reinforced the important role vital technology plays in everyone's lives today, so we're looking for new drivers to join our fantastic team of capable and committed colleagues to help us continue to deliver on our vision of helping everyone enjoy amazing technology."