The Freight Transport Association has called on chancellor George Osborne to protect spending on transport infrastructure as he attempts to cut £20 billion from the government's budget.
Osborne publishes his public spending review on 25th November setting out how the government will invest in priority public services and deliver the £20 billion further savings required to eliminate Britain's deficit by 2019-20.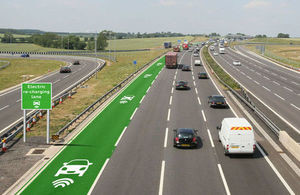 But Karen Dee, the FTA's director of policy, said: "It is essential that spending plans for both rail and strategic roads remain protected, but we also need to invest in maintaining our existing networks and further developing those that will enable us to compete globally – for example in much-needed additional airport capacity in the south east."
The FTA pointed out that 2015 Spending Review takes place against a backdrop of a UK economy that has grown for the tenth consecutive quarter and seen falls in food and fuel prices, which have both contributed to the low rate of inflation.
The association wants to see a series of measure to stimulate growth including:
ensuring effective implementation of the National Infrastructure Plan (NIS), Roads Investment Strategy (RIS) and the planned rail investments outlined in the High Level Output Specification (HLOS) for England and Wales for Control Period 5 (CP5) 2014-19
improving the longer term capacity, performance and resilience of transport networks
increasing productivity and improving skills
guaranteeing that devolution will not reduce infrastructure spending at local level