IntraLogisteX started and finished this week with a lot of smiles.
Exhibitors were clearly happy that they could once again showcase their solutions at the UK's largest annual intralogistics exhibition, face-to-face and without any restrictions, while visitors returned in their droves, eager to source solutions to ensure their warehouse operations can keep pace with what the pandemic has thrown at them over the past two years.
With more than 140 exhibitors and hundreds and hundreds of innovations on display, it's no surprise that IntraLogisteX is firmly in the diaries of almost all senior decision-makers in the UK supply chain sector.
"What we find with IntraLogisteX is it's more quality over quantity – it's not so much the numbers we're after, but the type of customer than we can help and become a valued supply chain partner with," insisted Adam Fox, Business Development Manager, Swisslog (pictured below). "We have met with some very high-level decision-makers – people in the kind of positions that you would ordinarily find it difficult to secure quality time with. We've had a lot of good leads, and some very high-quality ones, too."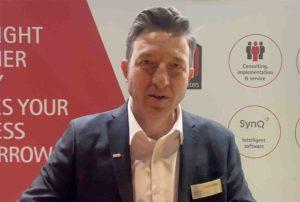 Fox was also complimentary about the general organisation of the event. "The good thing about this exhibition is that it's at a great venue," he enthused. "It's very easy to get to along the M6, the parking is very easy – fast to get in, fast to get out – so it's very convenient to drop by as opposed to other exhibitions. There's a lot of diversity of solutions and providers so I would highly recommend it."
"The footfall coming to the exhibition has been reasonably good but the quality of people that we have had on the stand has been absolutely superb," pointed out Steve Dunn, UK Business Unit Manager, Boplan (pictured below). "We've had some really good leads and opportunities come through, certainly from a UK territory perspective, which is the region we look after, and a lot of visitors that have come up to the stand have had multiple locations for us to arrange appointments and visits, so it's been exceptionally good."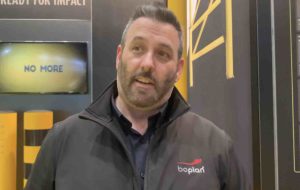 "The quality is the reason that we come to this show – it's always very, very high," revealed Philippe Sanders, Business Development, DistriSort. "Overall, we are really pleased with the visitors this year. And we are very enthusiastic about the leads we have. It's just a nice show – it's not too big and you know your time here will be worth it."
Certainly, Chris Clarke, Marketing Manager from Springpack, is in agreement with Sanders. "We've had some fantastic leads from the show – on both days. Really good quality and so many – a lot more than we could have expected! From start to finish, this exhibition has been fantastic – from the planning right the way through to setting-up and breakdown," Clarke said.
"It's quite clear that it's mainly decision-makers within the logistics space that have attended," observed Tim Edmonds, Technical Sales Manager, Dacha (pictured below). "We had some really great conversations over the two days and quite a few leads as a result. Rather than getting huge amounts to sift through, though, the quality of these leads is really, really good, so we'll be following them up. This was our first year doing this exhibition, but I'd say my initial assessment is that it's been a really good couple of days."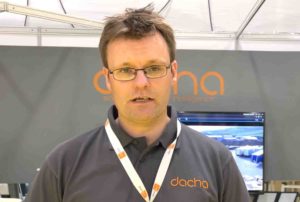 From a first-time exhibitor to an old-timer – Steve Temple, Manager, Sales Engineering UK, Locus Robotics. "I think the quality of visitor has been absolutely fantastic," he reported. "This is the third show that we've done this year – and by far and away, this has been the most productive. I think pretty much everybody that has come to the stand has been either management or at C-level, and they've all been really good conversations. Very good opportunities.
"At other shows we've been at, you get lots of information-gatherers," Temple continued (pictured below). "Here at IntraLogisteX, we've had bona fide companies and you know they're going to lead to follow-ups – potential customers that are serious about getting the ball moving, wanting to 'see us next week', etc. So, all in all, good decision-makers, good operational people, really good conversations. I'd much rather exhibit at a show like this, where the people that you're talking to are actually interested, rather than having an extra 10 people at the stand just looking for information."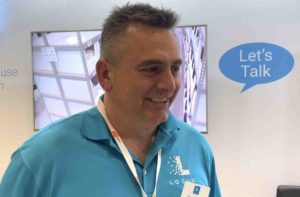 "IntraLogisteX 2022 has been great for Balyo," concluded Alfonso Gallardo, European Sales Manager. "In other shows we typically go to during the year, we have a lot of people coming on to our stand to sell us stuff. We haven't seen that at this show. There have been some really great interactions with customers and potential customers who are really interested in our products or services. We're looking to be back next year and definitely adding it to our portfolio of regular annual tradeshows."
IntraLogisteX 2023 returns to the Coventry Building Society Arena on 28th and 29th March 2023. And with this kind of feedback, you'd better secure your space fast if you want to meet the high-quality decision-makers that have impressed this handful of exhibitors.
See you next year!