DPD has opened an all-electric parcel depot in Westminster and set out plans for a further seven all-electric sites in London.
The 5,000 sq ft facility on Vandon Street will be known as DPD Westminster and will have capacity to deliver 2,000 parcels a day using an all-electric fleet.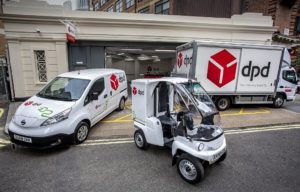 The company will use electric Mitsubishi eCanter 7.5 tonners for the inward feed of parcels to the depot
For deliveries it has bought Nissan eNV200 vans which it says are capable of making 120 stops a day. Seven of these are currently being used at Westminster.
In addition, it has bought eight micro-vehicles from Paxster, a Norwegian manufacturer. These will be used for deliveries in the immediate area around the depot and can make 60 stops on one charge a day. It has a further 23 Paxsters on order.
The Westminster site will also home DPD's first owned Pickup shop where customers can collect parcels.
The company expects to invest some £3m in DPD Westminster depot over the next ten years. The site for its second all-electric depot in Shoreditch has already been secured.
Chief executive Dwain McDonald said: "We want to be the leader in alternative fuel vehicles in the UK, with the ultimate aim being to move to a zero emission fleet.
"There are still significant external issues to be overcome in terms of the infrastructure to support an all-electric fleet on the scale we need, across the whole of central London. But I'm delighted with our proposition here and we will continue to work with the key stakeholders to realise our aims and support the Mayor of London and TfL's ambition for a cleaner and less congested capital."
London's deputy mayor for environment and energy, Shirley Rodrigues, said: "The Mayor's ambition is for all new cars and vans to be zero-emission from 2030 and I hope this is the first of many all-electric delivery depots in London."