Proving that sustainability gains can be found everywhere if you look hard enough, parcel delivery firm, DPD, has partnered with footwear brand Rock Fall to create a new range of sustainable safety boots for drivers and other workers that require protective footwear.
Rock Fall is the first safety footwear provider to be verified by the Vegan Society and the two new styles – the Rock Fall 'Fly' and 'Bantam' – are S3 rated for safety but also contain up to 12 recycled plastic bottles in each pair. Both styles are equipped with fibreglass toecaps and a Kevlar midsole.
The upper fabric, pull-on loops, laces and moisture wicking lining are all 100% recycled plastic, while the Bio EVA midsole is made from sugar cane oil rather than petroleum and the footbed uses recycled foam offcuts.
In addition, both styles are delivered in shoe boxes made from FSC recycled card that is both 100% recycled and recyclable and printed using soybean ink. Pointless packaging, such as card separators and swing tickets is minimised, and a QR code on the labels removes the need for unnecessary leaflets in the box.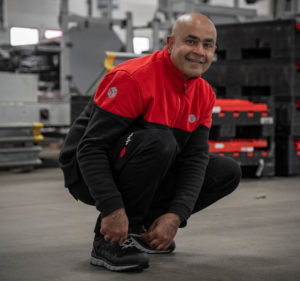 DPD has initially bought 5,000 pairs of the Rock Fall boots which will be added to the DPD footwear range this year and the firm hopes to grow that number year on year.
The new boots are part of DPD's pledge to be 'the greenest delivery company on the planet'.  In addition to running over 1,500 electric vehicles on UK roads every day, DPD has also successfully replaced its parcel bags with ones made from 80% reclaimed material and 100% recyclable and recycles all plastic shrink wrap used throughout the operation to create new shrink wrap.
"We've challenged ourselves to be the UK's most sustainable parcel carrier, and that means going way beyond just buying electric vehicles," said Olly Craughan, Head of Sustainability, DPDgroup UK. "We are committed to looking at every aspect of what we do and asking, 'Can we do that in a more sustainable way?' By working with like-minds and fellow innovators, we are finding more and more ways to improve what we do. The boots are fantastic, and they are another great way of ensuring our drivers leave a footprint they can be proud of."
"We are at the very start of our journey into truly revolutionising the safety footwear industry, using the most sustainable materials and components, ensuring we are not only prioritising wearer comfort and longevity of our footwear, but also our planet," added Richard Noon, Director of Rock Fall UK. "We are delighted that DPD will be adding this option to its PPE range."