Conviviality, which distributes drinks to some 25,000 hotels, pubs and restaurants, plans to appoint administrators within days after it failed to meet its refinancing target of £125 million.
Trading in the company's shares was suspended on 14th March after it discovered a £30m payment to HMRC due today (29th March) which it had not accounted for in its cash flow projections.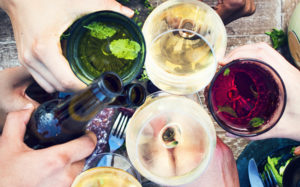 The company had downgraded its EBITDA forecast from £69.1-70.5m to £55.3-56.4m on 13th March.
Chief executive Diane Hunter stepped down from the board on 19th March, and the company set out plans for an equity placing to raise £125 million of new funding. However, on 28th March, it said that there had been insufficient demand to raise the full amount.
In a statement on intention to appoint administrators it said: "The Board has resolved to file notice of intention to appoint administrators to the Company. Unless circumstances change, and in accordance with statutory requirements, the Board intend to appoint administrators within ten business days. The secured creditors can, however, appoint administrators without the requirement for notice.
"The Directors intend to allow the business to continue to trade and the Company continues to work alongside advisers in order to preserve as much value as possible for all stakeholders as it explores a number of inbound enquiries regarding a potential sale of all or parts of the business."
The company's wholesale operation, trades under the Matthew Clark and Bibendum brands, turned over £1 billion in the year to 30th April 2017 – 6.4 per cent up on the year before. Customers include JD Wetherspoons, The Ivy, Prezzo, Searcys, and Revolution Bars Group. The business was headed by Mark Aylwin, former supply chain director of Safeway, who stepped down in January 2018 after completing the integration of Matthew Clark and Bibendum into Conviviality Direct.
In addition, Conviviality has a retail business operating under the Bargain Booze, Wine Rack and Select Convenience fascias. A third division, Conviviality Trading is a full service drinks brand and wine agency business.
The group operates a large distribution network with owned depots in Glasgow, Wetherby, Runcorn, Crewe, Newcastle-under-Lyme, Birmingham Shepton Mallet, Southampton, Crayford, Park Royal and Bedford.
There are five stockless outbases: Launceston, Didcot, Grantham, Boldon and Dundee.
There are also three depots operated by logistics partners: Reading, Bristol, and Bellshill.
The Conviviality Group had revenue of £1.56 billion in the year to 30th April 2017 – up from £941m the year before. Operating profit was £27.9m, up from £11.6m the year before.