DSV said it has had a "good start to the integration" to the integration of Panalpina, which it acquired in August, and the first operational integrations have already started.
Further details as to the integration of the global air and sea cargo specialist came as DSV reported a 21.1 per cent year-on-year increase in turnover for the three-months ending 30 September 2019.
Third-quarter turnover stood at DKK 24.5 billion (£2.8bn) while Q3 EBITDA (before special items) was up 18.4per cent year-on-year to DKK 1.8bn (£205.7m).
For the nine-months ending 30 September turnover rose 11.1 per cent year-on-year to DKK 64.6 bn (£7.4bn) while year-to-date EBITDA (before special items) was up 18.4per cent year-on-year to DKK4.8bn (£561m).
DSV said it expected to achieve annual cost synergies of approximately DKK 2.3 billion (£265 million) compared to the previously announced DKK 2.2 billion. It said that 5 per cent of these cost savings would be realised in 2019, with 60 per cent coming in 2020 and 35 per cent in 2021.
All commercial activity will now be conducted under the DSV brand. Panalpina activities have been included in the exiting DSV infrastructure from the date of acquisition (19 August).
Panalpina's was previously split between air and ocean freight and its logistics division. Air and ocean, responsible for 90 per cent of Panalpina's turnover, now joins DSV's air and sea division with logistics split approximately 50/50 between its road and solutions divisions.
Following the acquisition of Panalpina the number of full time employees has risen from 48,182 to 61,799.
Warehousing growth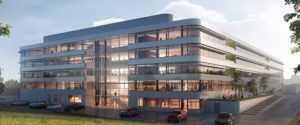 The acquisition has also added approximately 5.4 million sq ft (500,000 sq m) of warehousing to DSV's global capacity and is expected to add approximately DKK 2 billion to DSV's activities in this area.
However, DSV said that its contract logistics activities were impacted by a slowdown in the automotive sector and "a general decline in the UK market". Its cost base in this sector was also "impacted by IT migration" to its new global warehouse management system alongside the implementation of new technology in warehouses
Group chief executive Jens Bjørn Andersen said: "The closing of the Panalpina transaction on 19 August was the all-important event in Q3. We have had a good start to the integration and the first operational integrations have already started. Meanwhile, we are pleased to report strong results for Q3, despite challenging market conditions, especially in the air freight market."
DSV said that there has been demand weakness in several segments of global logistics markets so far this year, with lower than average freight rates in air cargo – where it estimates market volumes are down 4 per cent.
It said that sea freight grew between 1 per cent and 2 per cent and European road freight and contract logistics was estimated to have grown between 1 per cent and 2 per cent, matching underlying economic growth.
Last month DSV Panalpina chairman Professor Thomas Plenborg, has said that the business will be targeting acquisitions in the road freight sector – once the integration of the two businesses has been completed.
By Christopher Walton