Express courier DX is pressing ahead with capital investments in its DX Express division despite the challenges presented by the coronavirus crisis.
DX Express has completed the rollout of over 1,100 new driver handheld devices across its network of 31 service centres across the UK.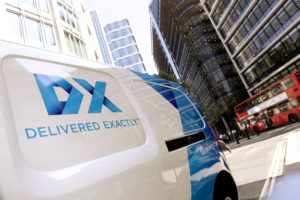 Simon Harper, operations director at DX Express, said: "The rollout of this new handheld technology was operationally complex and has been achieved quickly and smoothly – a testament to our great people.
"It paves the way for new product launches and further service benefits for customers, and is part of our drive to unlock the growth potential of the DX Express division.''
The rollout, it said, is part of its "wider, ongoing transformation and development strategy" and and would lay the platform for a programme of product launches and service enhancements for customers over coming months.
Chief executive Lloyd Dunn added that the handhelds were part of a larger investment programme it was  committed to.
"While the nationwide 'lockdown' to combat coronavirus has caused significant challenges for the business and our people, it has been important to keep going with 'big ticket' changes like this.''