DX has unveiled its business turnaround plan designed to restore sustainable and profitable growth within three years, following its leadership change in October last year.
The group made an EBITDA loss of £4.4 million in the half year to 31st December, compared to a profit of £3.9m the year before, although revenue rose from £142.7m to £146.6m.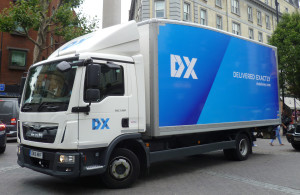 The new leadership team, led by Ron Series as chairman and Lloyd Dunn as chief executive, were appointed to the board in October.
The changes followed the termination of discussions to combine the DX business with John Menzies Distribution division in August 2017. The deal had been opposed by Gatemore, DX's largest shareholder.
Since taking over the new management team has reversed the "OneDX" strategy, creating two divisions, DX Freight and DX Express, which it says is a more effective way to manage the business.
The initial focus is on DX Freight, where gross margins have fallen since 2015. It made an EBITDA loss of £10.9m in the six months to 31st December 2017.
New organisational and management structures are now in place across DX Freight and the business has been reorganised into five regions from three previously. Depot general managers have been given more autonomy and the sales function now reports into depot general managers. The plan is to integrate the 2-Man service with DX Logistics.
DX Express, contributed EBITDA of £7.5m in the six months to 31st December 2017. The group now aims to separate the Exchange business from Secure and Courier, which it says will enable it to reinforce Exchange as an exclusive members network and drive service improvements.
In the Secure and Courier business, a new regional structure is being created with four regions, compared to three previously.
The group said that in due course, we also see scope to move to centralise the trunking network, optimise routing, and introduce a level of mechanisation.
The group is also proposing to redeem its Convertible Loan Notes and to raise £4m to support its growth initiatives. These plans have the backing of the group's major shareholder. The new capital raised will be invested in the business, including expanding the sales teams, adding new depots, enhancing the IT capabilities, and developing the networks.
Chief executive Lloyd Dunn said: "Following a careful review of the business it is clear that there is a great foundation to build upon with market leading products, a strong service culture supported by a loyal and invested team. We've been especially impressed by the quality of the people working within the business who want to deliver an excellent service and are committed to the future of the company.
"Key to the early success of our plan has been devolving accountability to depot general managers and regional directors, who are being given greater operational responsibilities and authority. This is driving the business supported by the creation of a commercial function, improving the quality of the contracts we win and manage."
Liad Meidar, managing partner and chief investment officer of Gatemore Capital, said: "We are fully supportive of the turnaround plan and are confident in the management's ability to deliver long-term growth. The business is already heading in the right direction; and we are pleased to see the clean-up of the balance sheet which will pave the way for future profitability. We look forward to working closely with the management team over the course of the three-year plan and beyond."