Delivery group DX increased sales by three per cent to £299.5 million last year, while an underlying loss, at £4.9m, was less than analyst forecasts.
Chairman Ron Series said the better than expected result for the year to 30th June "reflects the growth in our logistics business and the initial benefits of our turnaround plan".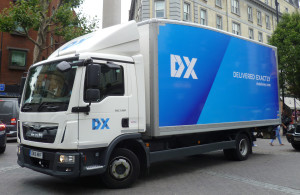 The group has gone through a period of dramatic change. Plans for a merger with Menzies Distribution were abandoned last year after it was opposed by Gatemore Capital, its largest shareholder.
A new leadership team took over in October last year charged with implementing a new strategy to turn the business around – notably to stem the losses in the freight business.
The DX Freight business increased revenue from £121.4m in 2017 to £137.8m, while EBITDA loss was £14.2m.
The DX Express business saw revenue fall to £161.7m from £170.5m in 2017, which it said was due to attrition at DX Exchange where revenue was down £6.6m. EBITDA for the DX Express division was £29.3m.
Overall the group reported a pretax loss of £19.9 million compared to a loss of £82.3 million in 2017.
Chief executive Lloyd Dunn said: "I am pleased with the progress we have made since the new Board was appointed to lead DX's turnaround. While the Group's overall financial results for the year do not yet reflect the benefits of our work, we are seeing encouraging signs of business improvement."
Liad Meidar, managing partner and chief investment officer at Gatemore Capital Management, said: "We are pleased to see that the team we installed is executing the turnaround ahead of plan on nearly every metric. Having taken the reins only at the end of the first half, new management was able to dramatically stem losses in the second half. They have also indicated a strong start to the new fiscal year. We are excited about the prospects for the business and look forward to supporting the company further over the long term."