Eddie Stobart more than doubled its revenue from e-commerce to £80.3 million in the first half, while its retail sector saw a 28 per cent rise to £102m.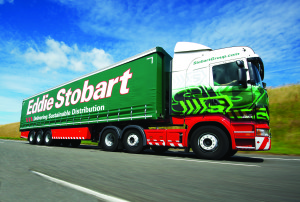 Manufacturing Industrial and Bulk revenue also grew significantly to £91.6m.
In the Consumer sector revenue was down from £74.7m to £70.1m as a result of the loss of the Britvic contract in 2017 – which has since been resecured.
Total revenue rose by 25.3 per cent to £359.3 million in the half year to 31st May, though operating profit slipped to £5.1m from £6.7m the year before.
The group said that underlying EBIT increased by 7.1 per cent to £18.1m. "Underlying EBIT growth has lagged behind sales growth due to the cost and complexity of implementing major contract wins. We expect to see the benefits of these contracts flow though in the second half of the year."
Chief executive Alex Laffey said: "We have won new contracts with blue chip customers adding an annualised £158m of new business.
"The recent acquisition of The Pallet Network (TPN) further adds to the range of services we provide to our customers across the supply chain."
Stobart recently completed the redevelopment of its Dagenham site to give an additional 180,000sq ft (which is now fully occupied), opened a new site in Bardon with capacity of 320,000sq ft and repurposed one of it sites at Rugby to accommodate growth for new e-commerce customers within the iForce business.
The company is currently developing its own transport optimisation solution, and said this is scheduled to go live mid-2019. "This solution will further enhance the service we deliver to our customers as well as driving operational efficiencies to our business."