Operating profit rose 16 per cent at Clipper in the first half driven by a strong performance in e-fulfilment and returns management.
Revenue in the six months to 31st October was up 14.1 per cent at £227.9 million, while EBIT was up 16.1 per cent to £10.7m.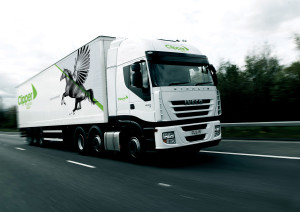 Chairman Steve Parkin said: "The group continues to be exceptionally well-placed to benefit from the continuing migration to online retailing and the increasing propensity for consumers to choose click-and-collect services when placing orders online.
Our recent contract wins, including Sports Direct and an extended relationship with Halfords, provide significant earnings momentum into the second half of the current financial year and beyond.
We are excited about the future growth of our European operations, as the contracts with s.Oliver, ASOS and Westwing evolve.
Clicklink is now well-positioned to enhance group earnings, with new clients being introduced to the network, and enhanced rates having been agreed with key customers as the benefits of using the service become evident to retailers."
However, the company said the positive developments had been partially offset by a number of factors including:
* Bench going into administration
* organic decline in certain customers trading in the non e-fulfilment segment result in the migration of retail to online
* the relocation of the women's knitwear range from Clipper's M&S operation in Peterborough to another M&S site
* a decline in commercial vehicle sales at its Northern Commercials business which operates Iveco and Fiat dealerships. Clipper said the decline in large tractor sales was a direct result of the manufacturer reducing its support to dealerships.
Looking ahead, the company said: "Trading continues to perform well in the early part of the second half of the year, underpinned by a strong business development pipeline with varying scales and at various stages of progression, albeit with the majority not scheduled to start until the financial year commencing 1 May 2019."