Eddie Stobart has travelled more than 300,000 miles to deliver over half a million Christmas trees for Christmas tree provider Needlefresh.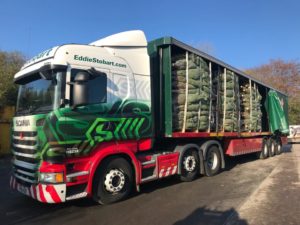 Work to deliver such a large quantity of Christmas trees started in April this year and final orders were completed by early November.
Eddie Stobart provided over 800 delivery vehicles to meet Needlefresh's strict customer fulfilment target of 72 hours.
Overall, Eddie Stobart transported 716 loads, which included 90 batches by rail travelling from Inverness to Daventry.
"Our aim is to ensure that our Christmas trees are delivered to our customers just as fresh as when they were first cut," said Needlefresh national account manager George Hood. "We use a bespoke software programme that's linked with Eddie Stobart's office in Carlisle, as well as the offices of all of our tree growers, to make sure the harvest, packing, transportation and delivery is absolutely seamless."