Eddie Stobart Logistics has got the go-ahead to build a £75 million national distribution centre next to its head office at Appleton Thorn in Warrington.
Speaking after the planning application was approved by Warrington Borough Council's Development Management Committee, Alex Laffey, chief executive of Eddie Stobart said: "I would like to thank councillors for supporting our ambitions to invest in Warrington last night.
"The National Distribution Centre will deliver real investment and create 480 new jobs and training opportunities for Warrington. Our plans will also see over £6million invested in the local road network for the benefit of all road users."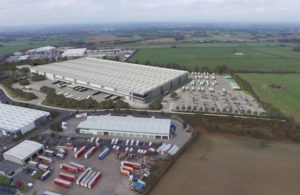 Work on the 634,910 sq ft facility on Barleycastle Lane will begin in the autumn and see 480 new jobs created at the facility which would be open by the end of 2020.
Laffey said: "Over the next 18 months, we will work closely with Warrington & Co to make sure that Warrington residents and businesses are at the front of the queue for the opportunities provided at the National Distribution Centre.
"We are proud to have our national headquarters in Warrington and are committed to supporting the ambitions Warrington Borough Council has for economic growth and job creation."