Eddie Stobart has ordered 240 trailers worth £6.8 million from SDC, the Northern Ireland based trailer manufacturer that was acquired by CIMC Vehicles earlier this year.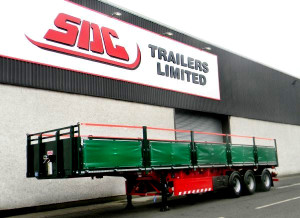 The order includes 50 gooseneck skeletal trailers and 25 extendable skeletal trailers for Eddie Stobart's port logistics, 125 curtainsiders for retail operation and 40 brick / block trailers which will be used in the operator's new aggregate division.
Earlier this year, Stobart acquired 650 SDC curtainsider and boxvan trailers.
SDC's new Kinetic Energy Recovery System (KERS) curtainsider, which is undergoing road testing trials by Eddie Stobart, has been shortlisted for a European Trailer Innovation Award.
The manufacturer says the KERS system will deliver a reduction in fuel consumption and greenhouse gas emissions by up to 25 per cent.
Mark Cuskeran, CEO of SDC Trailers said: "It's been a busy and momentous year for SDC to date, with an expansion to our production facilities, the launch of our pioneering new KERS trailer, our acquisition by CIMC and now the IAA show and Trailer Innovation Awards."
CIMC Vehicles, the China-based trailer manufacturer, acquired Retlan Manufacturing, which includes SDC Trailers, the Northern Ireland-headquartered UK trailer manufacturer in June.