Eddie Stobart's Manufacturing, Industrial & Bulk division has taken delivery of a fleet of new mechanical offload trailers and new EN-XL curtainsiders to support its new Aggregate Industries business.
It is also investing in specialist training for the Manufacturing, Industrial & Bulk team, with accredited specialist training in advance of the October start of the contract with the Concrete Products division of Aggregate Industries.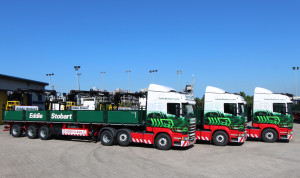 CEO Alex Laffey said: "We're delighted to have formed a partnership with Aggregate Industries and we are eager to help our customers reset expectation with new safety standards, training and equipment capable of performing to the highest levels of quality and safety. The initial investment we have made in the new equipment and in the training of our team supports the growth strategy plans we have for this sector. Having a highly trained, safety aware, customer-focused team operating class-leading equipment all maintained and presented to the highest possible standards is front of mind here at Eddie Stobart, and this partnership is a perfect example of that approach."
The mechanical offload trailers have Atlas 92.2–A1 roller demountable cranes, operated from the vehicle or the ground, which gives operators greater flexibility with the ability to select the most efficient and safe offload option. They are fitted with a positive rear steer and front axle lift.
Simon Marriott, concrete products director at Aggregate Industries, said: "The varied nature of our work requires a very flexible haulage partner with specialist equipment. Our partnership with Eddie Stobart means that we can offer customers a market leading service and enhanced vehicles that will make a real difference to every stage of their delivery. Above all else, safety is our number one concern and these new vehicles are equipped with technology that will help protect other road users, our employees and our customers."
* Stobart Group, which retains a minority stake in Eddie Stobart Logistics, has said in its pre-close statement that "all growth operating divisions are performing in line with expectations while our infrastructure division has exceeded expectations".
Chief executive Andrew Tinkler said: "Significant progress has been made in the period, illustrating that we are on track to achieve our objectives. A particular highlight is the momentum in the Energy division, which we are confident will continue during such an important point in its development and we look forward to delivering the expected growth. Within Aviation, we are pleased with how the discussions with carriers and operators are progressing and look forward to a positive outcome in the coming period."