Eddie Stobart, Britain's highest profile haulier, has joined the Road Haulage Association. CEO William Stobart said: "We are pleased to be counted among the membership of the UK's Road Haulage Association – dedicated to the needs of road freight operators.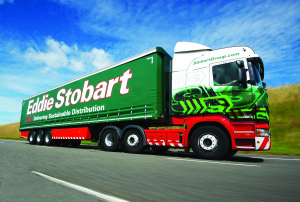 "The RHA works hard for the industry on all levels. In particular it has put the issue of the driver shortage firmly on the political agenda. A united industry has far greater power to bring about change and, without doubt, we will be stronger together."
"The addition of Eddie Stobart to our membership is great news," said RHA chief executive Richard Burnett.
"The commitment of a such a high profile operator will increase our buying power when negotiating the best deals for members with suppliers and will further enhance our already strong influence with government, opinion formers and key decision makers when lobbying for a fair deal for the industry".
* Motorway service areas are 'woefully' inadequate, according to RHA chief executive Richard Burnett who wants to see government action.
"While others use the roads to get to work, for HGV drivers, the roads are their place of work and, like any employee, the conditions under which they work are of critical importance and they have the right to expect a good standard," said Burnett. "The facilities provided at the vast majority of motorway service areas fall woefully short of what can even be considered to be an acceptable standard."
Burnett went on to note that with the industry facing a massive driver shortage, every issue that affects recruitment is vitally important.
"Who would want to take a job knowing that the basics, for example toilet facilities, are in a shocking state of repair? Professional drivers quite rightly, object to filthy and ill-maintained washing and other hygiene facilities," he added.
"This industry is heavily regulated and drivers, by law, have to take rest breaks. The current standard of facilities at many 'official' areas is so inadequate that parking in a layby is often a preferable option. This is unsafe for drivers, their vehicles and their loads."