Today I hosted the first Logistics Manager webinar, part of our series focusing on the key issues facing the supply chain at the moment, and I'd like to thank all our readers who attended.
Those who watched the webinar, which is now available to view at your leisure on logisticsmanager.com, would have heard from FTA manager of international transport and trade procedures John Lucy and Nick Fox, head of logistics at fashion retailer Theory.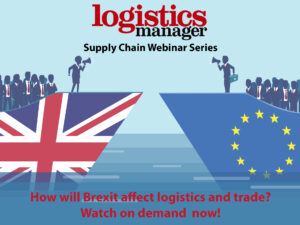 Our first webinar was about Brexit, back on the agenda at negotiations on a trade deal take place between the UK and the EU via Zoom (so gone are those silent negotiations in corridors and over dinner… the essential backchanneling required in any successful negotiation). Three months into a global pandemic, Brexit may have been out of sight, but not out of mind for supply chain practitioners.
It still seems bizarre that, four years after the referendum and three governments later, the UK is no closer to finding out what shape its trading future will take. Yet, when you read headlines and try to comprehend that you're living through history on multiple fronts, here we are.
And it seems like a no-deal Brexit outcome is gathering ground again, after the fourth round of negotiations this month ended in a stalemate. So, we could end up waking up from months and months of lockdown induced recession and walk straight over the cliff-edge of no-deal Brexit, perhaps leading us to full blown depression.
It seems strange to say it, but Covid-19 hit the sector at just the right time, with the one year transition period meaning that any problems to logistics sector could have encountered this year, of all years, we're averted. I'd be fascinated to see how this kept some supply chains moving during the crunch early weeks of lockdown that was problematic enough for some logistics operations.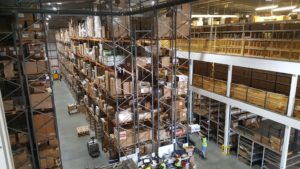 Yet here we are, with logistics operations having to adjust to social distancing in the warehouse, and key worker status, and furloughed operations, and the closure of suppliers affecting delivery volumes…. At the same time as they are having to introduce new processes into international trade.
All of this makes me wonder, just how much supply chain resilience is left in the system? Covid-19 has burnt capital, be it fiscal, intellectual or human. Supply chain resilience isn't an ever-lasting source to tap into. There are only so many suppliers of natural materials to manufacturers, and so many manufacturers around the world that have the capability to deliver goods on the scale a growing British economy needs.
Near-shoring has been offered as the answer, and there are many positives to building a stronger manufacturing base here in the UK to reduce the cross-border flow of some finished goods. But setting up factories, let along new supply chains for the materials those factories need, is neither quick or easy. It's certainly not a short-term answer come January.
Ready or not, the UK is about to conduct the largest supply chain resilience experiment in human history. Good luck!
Christopher Walton, Editor, Logistics Manager