JCB's new electric Teletruk delivers huge benefits – both inside and outside the warehouse or distribution centre.
JCB recently announced the launch of an electric-powered version of its multi-award winning Teletruk telescopic lift truck.
The new JCB 30-19E is the first electric-powered model in the Teletruk range – and its launch opens up new opportunities for a machine that has revolutionised materials handling operations in builders merchants, ports, recycling centres and industrial facilities around the world since it was first unveiled in 1997.
Until now JCB's Teletruks have been powered by diesel and LPG and used predominantly in outdoor applications. With the introduction of the new electric model, the Teletruk now becomes suited for a wealth of tasks inside buildings as well as outside – offering a new generation of customers the cost and space saving advantages enjoyed by users over the past two decades.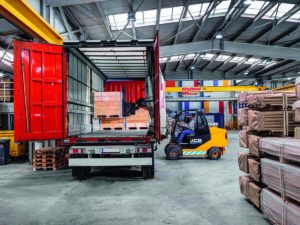 JCB Industrial General Manager Paul Murray said: "JCB is a leader in innovative clean diesel technology but we are also developing other clean technologies for smaller machines in our range. The launch of an electric powered Teletruk opens up so many new markets for us. We now have a machine that is capable of operating at optimum efficiency both inside and outside the warehouse, distribution centre or factory facility – delivering the ultimate in versatility."
With its iconic telescopic forward reach boom, the JCB Teletruk was developed as an alternative to the conventional lift truck, which, of course, has a front-mounted mast that raises and lowers loads only vertically.
The forward reach functionality makes the Teletruk the ideal choice of lift truck at sites where containers, curtainsided trailers, vans and other delivery vehicles have to be loaded and unloaded quickly, safely and efficiently.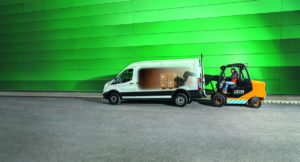 Using the unique telescopic boom, the JCB 30-19E has a lift capacity of 1900 kg at 2 metres, meaning palletised loads can be loaded to the far side of a curtainsided trailer.
And the Teletruk's forward reach capability eliminates the risk of material and vehicle damage – as well as the potential for injury to personnel – when loading or unloading pallets to and from light goods vehicles, especially vans. The Teletruk can place a laden pallet 3 metres into a van – allowing full utilisation of extended wheel-base vehicles. For ultimate efficiency, the Teletruk can load three Euro pallets into a van easily and safely within two minutes.
The JCB 30-19E Teletruk's ability to operate both inside and outside a building brings a number of benefits to the user. For example, working inside a building, the JCB 30-19E can enter a container that has been reversed into a sealed loading dock and use its telescopic boom to safely stuff and de-stuff loads far more time – and space – efficiently than is possible with a conventional counterbalanced forklift or stacker. This increases utilisation of vehicles, aisle trucks and goods in/out infrastructure. Thanks to its AC electric driveline, the new JCB Teletruk can climb a 21 per cent gradient or ramp with ease and productivity is further enhanced with full free lift of 1575mm as standard.
Meanwhile, when working in the yard, the JCB 30-19E has the ability to access curtainsided trailers from only one side. Using the JCB 30-19E to pick or pack pallets from one side only means that a curtainsider requires just six metres width of space within which to be loaded or unloaded. So, trailers can be parked tight to a wall or other form of perimeter boundary – leaving valuable space free in the central yard area for additional storage, extra delivery vehicles or for tasks such as cross docking. In fact, customers can save 70m² of space per truck with single side loading. In addition, a total of eight minutes can be saved on opening and closing truck curtains per load.
The JCB 30-19E's power is provided by an 80-volt lead acid battery which can work a full eight hour shift on a single charge. The battery compartment is positioned at the rear of the truck and has been designed to allow quick and easy battery changeover. Using a single point hoist or another lift truck, the battery can be swapped in around 2 minutes – ensuring truck uptime is maximised.
Safety also comes as standard as all machines are fitted with Load Motion Control. This patented JCB innovation alerts the operator when reaching full lift or reach capacity with a simple green, amber, red light system and will not allow a load to be used outside of the load capabilities of the machine, aiding the prevention of forward tip.
Paul Murray added: "With the launch of the JCB 30-19E, JCB has responded to the demands of the market for an electric-powered Teletruk that can operate both inside and outside a building. When it comes to loading and unloading containers from within a building, the Teletruk offers superior performance to other types of materials handling equipment while, outside, the Teletruk can load or unload a curtainsided trailer in under 30 minutes and requires 30 per cent less space than conventional counterbalanced trucks to work in.
"Within a logistics environment, the majority of the materials handling equipment in use is electric-powered and, because the Teletruk offers so many clear advantages to companies operating in the warehousing and supply chain space, it makes perfect sense to introduce a battery-powered model."
For more information click here