John Lewis Partnership is to ramp up its use of electric vehicles across its commercial vehicle fleet, trialling a small number of  vans in early 2021 and, subject to its success, rolling out more widely in 2022.
While John Lewis Partnership would not reveal which vehicle manufacturer it would work with on the trial it did say that it would use two new designs of vehicle for its Waitrose.com food deliveries and for smaller John Lewis deliveries.
John Lewis Partnership said the electric vehicles participating in the trial would have greater capacity than diesel counterparts and, in some cases, it could replace three diesel vans with two electric ones.
It also said that the vehicles can be upgraded as technology advances, meaning the electric vans could have a very long life of up to 20 years or more.
Justin Laney, partner and general manager of central transport at  John Lewis Partnership, said:  "As our online services rapidly expand, we're working hard to meet our goal of operating a zero fossil fuel in the next ten years.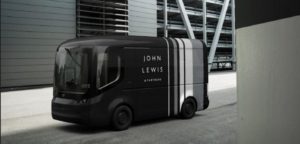 "Our new electric vans are an ideal solution for home deliveries; the innovative design means they're more efficient, but also respectful to the environment and the growing number of neighbourhoods in which we deliver."
Waitrose has been investing heavily in Waitrose.com ahead of the end of its deal with Ocado in September, adding more than 100,000 customer order slots each week to its service. This means it now has more than 160,000 slots available each week.
John Lewis Partnership said its ambition was end the use of fossil fuels across its entire transport fleet by 2030.
Furthermore the retailer is also to open a new biomethane station at Waitrose head office in Bracknell in December for fuelling 120 HGVs. The biomethane is made from food waste and food processing waste materials.