Element Logic specialises in optimising warehouse performance, particularly when it comes to process management with EWMS (Warehouse Management System) and AutoStore, the unique automated storage and retrieval system for handling of small/medium sizes goods. The company aims to improve goods flow, increase productivity and create optimal space utilisation.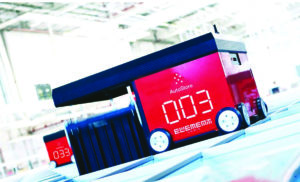 Element Logics' vision is to make our customer's warehouse the most efficient in Europe. We focus on efficiency and high productivity to help our customers become more profitable and competitive. In other words, we are: OPTIMIZING WAREHOUSE PERFORMANCE
Our core competence is to save space and streamline processes for large and small warehouses. Established in 1985, and being market leader in several market segments has given us considerable expertise and experience.
Element Logic is specialized in internal logistics processes; we design, develop and deliver the most efficient warehouse solutions.  Our people possess years of expertise and knowledge in AutoStore, the unique goods to man picking system that is powered and optimised by our EWCS  Element Warehouse Control Software.
EWCS is also an integral module in our full Warehouse Management Software EWMS
Element Logic are the primary AutoStore partner in the Nordics and are now successfully expanding further into Europe.
The headquarter is in Kløfta, Norway, with subsidiaries in Sweden, Denmark, Finland, Germany and UK.