A specialist in all-electric light commercials is marking 20 years in business with the launch of five new last-mile delivery vehicles.
ePower Trucks is expanding its range of electric LCVs with the X-Cell and X-Cell micro. Both vehicles are designed for couriers, post and parcel delivery and last-mile logistics applications. They have top speeds of up to 50mph with a range of up to 120 miles and can carry a 500kg payload. Multiple cargo bed configuration are available.
The X-Cell comes in three models – the X-Cell, X-Cell Pro, and X-Cell Pro+. It is joined by the X-Cell micro, an adaptable, three-wheel vehicle designed for light loads such as postal and takeaway deliveries.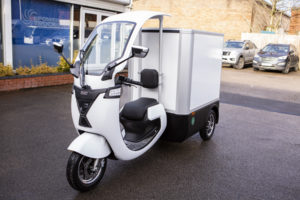 "The last mile is often the costliest as well as a significant contributor to emissions," commented Bobby Cullen, Sales Director North. "These compact, safe, all-electric vehicles can help change that."
These three models are joined by two in the X-Cell Micro range, with a top speed of 25mph, payloads of 250kg or 100kg, and a range of up to 55 miles. The Micro can be customised with a refrigeration box, insulated box for hot food and drink, or be fitted with an adaptable cargo box.
"Research shows that over half of delivery vans travel no more than 15 miles away from their bases, making this a very viable, compact vehicle for city area deliveries and collections," added Jamie Radcliffe, Sales Director South for ePower Trucks.