Continuing in the same spirit as this morning, the final section of Logistics Manager's ESG Industrial & Logistics Conference was equally interesting and insightful.
The afternoon started in style with a panel discussion chaired by Logistics Manager Editor Michelle Mooney. The session saw the panel – consisting of representatives from GXO, Delivery Mates, and Iron Mountain – field questions about how occupiers want their property to contribute to their environmental, social, and governance (ESG) goals.
The discussion touched on a wide range of topics surrounding ESG including energy saving techniques in the warehouse, investment in communities, the importance of setting ESG targets, and support from local authorities in delivering positive change to a company's ESG policies.
The panel had some interesting revelations when it came to the question of cost as an obstacle to improving ESG within an organisation. Phil Shepley, Vice President and Head of Commercial at Iron Mountain, revealed that ESG is not currently in the top 10 factors that influence a buying decision. With costs already high and inflation not likely to disappear anytime soon, the panel agreed that investments in ESG policies are more likely to be approved when they can display real commercial and financial benefits.
After that, Simi Gandhi-Whitaker, Strategic Workplace & Technology Director at facilities management company Mitie, addressed the crowd. Her presentation, titled 'Tech: Tools or Toys? The conundrum for implementing SMART building solutions', covered whether smart technology is a luxury or a necessity, while highlighting the value of adopting a people-first approach.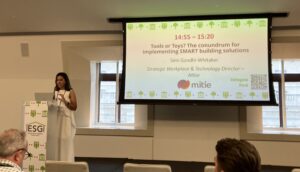 Gandhi-Whitaker was keen to emphasise that technology should not be implemented for technology's sake. She explained how important it is to have a clear strategy based around what a company wants to achieve, whether that be improving workplace experience, workplace optimisation, decarbonisation, or cost reduction.
She spoke about how data and technology can be used to optimise a facility, both for staff and in terms of energy usage.
The final session of the day was led by Tim Campbell, Managing Director of Campbells Electric Vehicle Consultancy. His session revolved around the concept of properties as 'the fuel stations of the future'.
Campbell explained what needs to be done to prepare properties for zero tailpipe emission commercial vehicles, emphasising the need to understand the role property plays in a zero tailpipe emission future. "Infrastructure first, vehicles second" was the message he relayed to the audience.
He explained some of the common mistakes that are being made when it comes to property and fleet in the electrification of commercial vehicles and dispelled some of the myths surrounding EVs.
Old mindsets are not suitable for the progression the industry is set to make in the coming years, according to Campbell. Referring to the transition away from fossil fuels in commercial vehicles, he said: "We are doing in 120 months what we have previously done in 120 years."
With a lot of focus on solar PV panels, Campbell also brought attention to alternative sources of renewable energy, such as turbines, that property developers and occupiers could consider to improve sustainability.
This brought the conference to a close and Michelle Mooney thanked all of today's speakers for their fascinating and insightful presentations.
The next big event to look out for in the Logistics Manager calendar is the 27th Supply Chain Excellence Awards, taking place on 9 November at the London Hilton on Park Lane. These prestigious awards recognise organisations around the world that demonstrate excellence in their supply chain operations.
Following the awards, attention turns to the Top 50 Logistics Service Providers – a comprehensive guide to the most successful companies in the industry and all the important financial facts and figures from the year just gone. This publication is published in early December, accompanied by a week of webinars taking a detailed look into some of these firms and counting down to the top 10 companies.