EU plans to increase regulation for the van sector have set alarm bells ringing at the Freight Transport Association, which says they could divert the Driver and Vehicle Standards Agency from policing dangerous, badly maintained or overloaded vehicles.
The EU's Mobility Package proposals will require operators of vans to demonstrate their "financial standing" by proving they have available funds of around £1,500 for one van and £580 for each subsequent vehicle. It will also be necessary to prove that the operators are "established" in the UK by providing evidence of a registered business premises.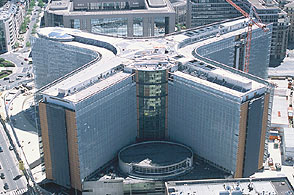 The proposals are part of a package of road transport legislation, which the FTA says contains measure that UK operators have been lobbying for.
"We welcome proposals to reduce the ever-increasing administrative burden that our international members have been facing when operating abroad, as a result of the so-called 'minimum wage rules', that have multiplied across Europe in the past months," said European policy head Pauline Bastidon.
"The emergence of these national requirements has jeopardised the integrity of the single market, and created unnecessary costs and red tape for operators. In recent months, FTA has been relentless in asking the European Commission and national authorities to cut red tape for our members, so these proposed simplifications are most welcome.
"We also welcome the Commission's efforts to bring greater inter-operability to road charging tools, which should remove the need for multiple boxes in the cab and cut costs for international operators, as well as the proposal to introduce incentives for users of cleaner vehicles," said Bastidon.
"However, we also have serious concerns with crucial aspects of the package, such as the unnecessary imposition of bureaucratic rules for vans, or the move to ban drivers from taking their weekly rest in the cab. We will continue to work with all European institutions involved to ensure our concerns are addressed as a matter of urgency," she said.