The European Truck Platooning Challenge reached its climax yesterday when the six groups of trucks arrived in Rotterdam.
The platoons of vehicles arrived at APM Terminals, Maasvlakte II in Rotterdam at 12.30 (1.30pm London time). Six manufacturers took part in the challenge: DAF, Mercedes Benz, Iveco, MAN, Scania and Volvo.
The trucks in a platoon use smart technology, and communicate with each other to maintain their stations in close proximity on the road reducing fuel consumption.
Connected vehicles in a platoon require a distance of only 15 metres instead of 50 metres between them producing a significant reduction in aerodynamic drag – comparable to slipstream riding in cycling competitions.
A platoon of three trucks can achieve a fuel saving of up to ten per cent, reducing CO2 emissions in the same measure. Platooning allows much more efficient use of the road space. The development of platooning could also open the way to automated driving and smart mobility.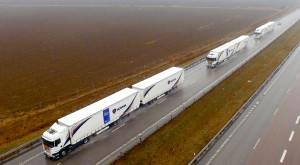 Scania had the longest journey, as it started from Södertalje, south of Stockholm. For the leg between Södertälje and Malmö in Sweden, the Scania truck and trailer combinations were driven with an extra trailer, taking their total individual lengths to 32 metres.
"Longer vehicle combinations are something that we're already testing on some stretches of road and with which we are achieving good results," said Jonas Hofstedt, head of powertrain development at Scania. "Adding an extra trailer increases the amount of goods in every transport movement, reducing per tonne-kilometre costs by 40 per cent and carbon dioxide emissions by more than one-quarter."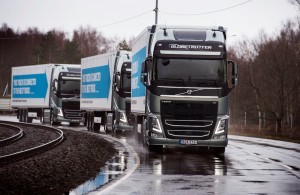 Volvo started from Gothenburg, driving through the same countries as Scania, and stopping in Vilvoorde.
The MAN platoon started from Munich in southern Germany. MAN said that since the beginning of February 2016, it had been testing under real conditions a platoon of two trucks with a train length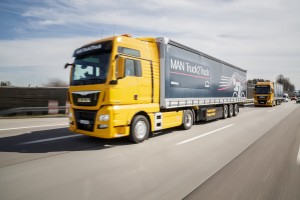 of 45 metres on the digital test field of the motorway A9, a route section between Munich and Ingolstadt.
MAN has already gathered some platooning experience: Between 2005 and 2009, the company tested platoons of three and four with a train length of up to 100 metres during a research project.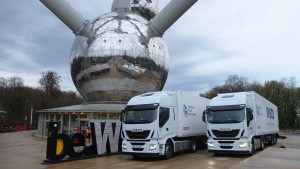 Two heavy-duty Iveco Stralis trucks are en-route to Rotterdam having started out in Brussels.
A consortium of DAF Trucks, TNO, NXP and Ricardo united under the name EcoTwin for the challenge – its convoy left from Westerlo in Belgium.
Three Mercedes-Benz Actros trucks set off from Stuttgart, where Dr Wolfgang Bernhard, responsible for Daimler Trucks & Daimler Buses in Daimler's Board of Management, personally bade farewell to the drivers at their departure from the Mercedes-Benz museum for their two-day trip.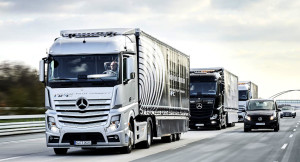 "We consider platooning as meaningful part of the integrated approach in which all stakeholders in road transport contribute to reduce fuel consumption and CO2. Driving in a convoy is one of numerous examples to raise the performance of goods transport extensively with connected trucks," he said.
The platooning challenge is part of a focus on transport by the Netherlands for its presidency of the EU. It is also making smart mobility the central theme of the Informal Transport Council during the 2016 EU Presidency.