Southampton-based port centric logistics company and Xpediator subsidiary Import Services , has signed a 20-year lease with Associated British Ports for a new 200,000 sq ft distribution centre at Southampton's Container Port.
Development of the new distribution centre has started and is expected to complete in the first quarter of 2021.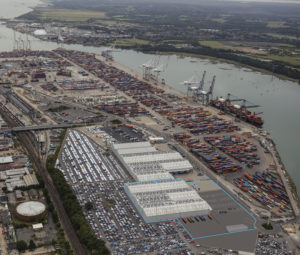 The new warehouse site is designed to connect with Import Services' existing quayside distribution centre, doubling Import Services' operational capacity. Together, the enlarged facilities will enable Import Services to hold stock under bond for order processing and distribution across the UK, continental Europe and global markets.
Stephen Blyth, chief executive of Xpediator, said: "Import Services' new distribution centre will be just 100 meters away from where the deep sea container ships dock and with this new facility, our teams will be able to discharge containers efficiently, process orders and deliver straight to the point of demand.
"Historically, Import Services has not always had the capacity to meet demand, this new facility will not only enable us to meet demand but also capture additional market share by being able to offer superior services. The timing of this expansion could also work favourably with the UK's move outside of the European Union."