FedEx has signed a multiyear collaboration deal with Microsoft to use cloud computing to further digitise its supply chain, starting with the jointly-developed visibility tool FedEx Surround.
FedEx Surround uses data to provide "near-real-time analytics into shipment tracking", with the target of improving inventory management as well as the precision of logistics movements .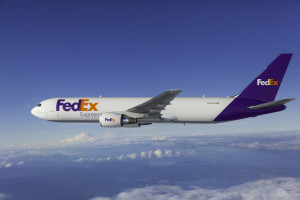 The first product from the partnership also uses Internet of Things technology  utilised by FedEx as well as artificial intelligence analytics from Microsoft.
This, said both parties on announcing the partnership, would provide FedEx customers with enhanced visibility of a package's location, but also knowledge of conditions such as severe weather, natural disasters, mechanical delays, clearance issues, and incorrect addresses.
FedEx chairman and chief executive Frederick Smith, said: "FedEx has been reimagining the supply chain since our first day of operation, and we are taking it to a new level.
"Together with Microsoft, we will combine the immense power of technology with the vast scale of our infrastructure to help revolutionise commerce and create a network for what's next for our customers."
FedEx and Microsoft said they expected to announce additional digital supply chain tools as part of their collaboration "in the coming months".
Microsoft chief executive Satya Nadella, said: "Now more than ever, organisations are counting on an efficient and capable supply chain to remain competitive and open for business.
"Together with FedEx, we will apply the power of Azure, Dynamics 365 and their AI capabilities to this urgent need, building new commerce experiences that transform logistics for our mutual customers around the world."

The 24th Supply Chain Excellence Awards, with new categories for 2020 – including the  Supply Chain Innovation and Supply Chain Visibility Awards – will take place on 12 November. For more information, including how to enter and sponsorship opportunities, contact daniel.jessop@akabomedia.co.uk