Kent-based haulier Alan Firmin has switched pallet networks, leaving Palletforce to join Pallet-Track.
Chairman Paul Denyier said: "We are pleased to be joining Pallet-Track as a shareholder member as it is of one of the UK's leading overnight pallet networks. This exciting new move will enable us to continue to provide a comprehensive solutions for large and small consignments, while maintaining the high standards of quality and service that our customers have come to expect."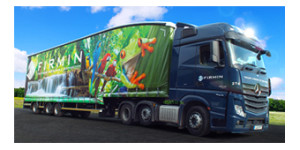 Alan Firmin Ltd, founded in 1937 for transporting livestock to market. It now has sites at Maidstone and Sittingbourne and turns over almost £25 million a year.
The move follows a year of Pallet-Track managing the Kent post code itself, as a temporary measure while it sought a new strategic partner with strong local connections.
Nigel Parkes, founder and managing director, said: "Firmin Transport joining Pallet-Track is a significant coup for us. It is major player in Kent and the south-east and it brings with it a rich history and innovative ideas for the future, not only for the network, but also the industry."