The first new Actros 1851 LS 4×2 has rolled off the production line at the Mercedes-Benz Wörth plant at Rhein, Germany.
Innovations include Active Drive Assist which enables semi-automated driving in all speed ranges.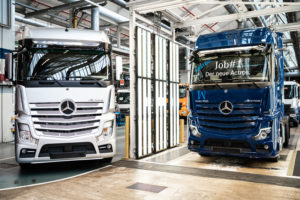 Likewise, a standard-fit MirrorCam replaces the main mirror and wide-angle mirror and features two cameras mounted on the outside whose images show up on two 15-inch displays on the A-pillars in the driver's cab to enables for an improved view.
Included is a new Multimedia Cockpit which replaces the conventional instrument cluster so that the driver can see all the assistance systems and the new traffic sign recognition function at a glance. An additional touchscreen on the instrument panel enables for app selection from the Mercedes-Benz Truck App Portal, virtual switches and presenting the new navigation system.
"For the new Mercedes-Benz Actros we have developed solutions with the clear goal of making it the safest, most efficient and most connected truck ever. Thanks to our expertise in the global production network of Mercedes-Benz Trucks, we are now putting it on the road. The Actros is now ready for its customers," said head of Mercedes-Benz Trucks, Stefan Buchner.
Preparations to manufacture the Actros in the most optimal way possible began in 2014. This included using virtual reality and establishing around 50 projects with suppliers. Together with all other series of the plant, the new Actros runs flexibly (depending on the customer's order) over one and the same assembly line.