IMRG, the trade organisation for e-retail, has come up with a five point plan to avoid the logistics problems experienced over Black Friday last year.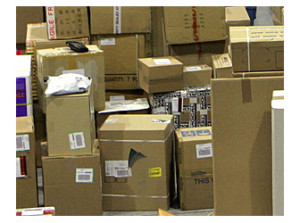 That week saw a large number of online orders compressed into a far shorter period of time than anticipated – triggering an online retail 'delivery tsunami' with a fall in volume either side of an exceptional spike in demand over the Black Friday (28 November) weekend, said IMRG. This heavily impacted carrier and retailer fulfilment opera­tions and normal activity suffered for days afterwards.
To avoid this happening again is recommends:
1. Better information sharing. "Retailers should provide carriers with as much information as possible about what activity they will be undertaking and when – so that the carriers can identify potential bottlenecks early and put measures in place to cope with it," it said.
2. A new approach to discounting. IMRG pointed out that for those that did discount stock heavily, customers will expect to see something similar happen again.
But it says the rate of discounts will need to be rationalised. "Black Friday can be very profitable for retailers who get it right, but the discount rate cannot keep rising or margins will fall to unsustainable levels."
3. Contingency and variable capacity. Being realistic about lead-times for receiving orders will decrease the likelihood of customers becoming frustrated should delays occur – Black Friday takes place around a month before Christmas, so longer lead-times are less of an issue, said IMRG.
4. Variable delivery discounts and extended delivery. IMRG suggests that retailers could offer a 5 per cent discount for next day delivery, 10 per cent for three to five days, 20 per cent for seven days etc.
"It is probably a good idea to extend the delivery promise in advance to avoid frustrating customers. If carriers and fulfilment operations start to struggle the delivery promise should be adapted quickly," is said.
5. Multi-carrier solutions. IMRG highlighted the fact that in 2014, possibly as a result of being surprised by the scale of activity on Black Friday, discounts were applied to low-cost items as well as the larger-ticket purchases.
"The result was that it massively pushed up parcel volumes that should have been sent through Royal Mail as low-cost small parcels, adding greater pressure to already struggling carrier operations.
It recommended worth looking at multi-carrier solutions to prevent the risk of one getting deluged by volumes.
It also suggested other steps to alleviate delivery problems including greater use of click and collect and fulfilling orders from in-store stock.
* The report, Black Friday 2015 – managing the peak, is available from the IMRG web site.