Off-grid energy solutions provider Flogas has partnered with standby power specialist DTGen to provide a complete turnkey liquid gas solution for logistics businesses with onsite power generation needs.
The new partnership focuses on helping companies currently running their generators on diesel or fuel oil to secure a cleaner, greener energy supply, while also avoiding price rises from the red diesel tax subsidy changes that came into affect on 1st April 2022.
"For a number of different industries, diesel-powered standby generators are about to become substantially more expensive to run due to subsidy changes," explained John Kinstrie, Head of Solutions at DTGen. "Upgrading to cleaner liquid gas not only saves them costs and insulates against price increases, but it also reduces their carbon footprint – setting them on the right path towards a lower carbon future.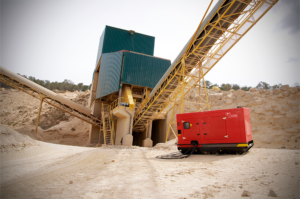 "Not only that, but switching to liquid gas will also reduce other harmful pollutants like nitrous oxide (NOx) and particulate matter (PM) – helping to improve air quality too."
Through the Flogas and DTGen partnership, customers will be able to select from DTGen's portfolio of standby power systems, while also benefiting from a tailored liquid gas supply from Flogas. Their tanks will also be fitted with auto-ordering technology, which alerts the team when levels are running low and triggers a delivery, so they are always kept topped up.
"This is a proper turnkey solution," added Rob McCord, General Manager – Bulk Commercial at Flogas. "Customers don't have to worry about speaking to multiple suppliers, they can leave it all to us.
"The good news is that those who operate on liquid gas now will automatically be one step further on the road to net-zero emissions," concluded McCord. "Once it's more readily available, the likes of Bio-LPG will take its place and when it does, it can be simply dropped into existing systems with no changes needed. This means liquid gas users are already fully set up to become carbon neutral when the time comes."