Deutsche Post DHL and Ford have unveiled the first of their jointly produced electric delivery vans in Cologne.
The vehicle, called the "StreetScooter WORK XL", is based on a Ford Transit chassis fitted with a battery-electric drive train and a body designed and built to Deutsche Post DHL specifications.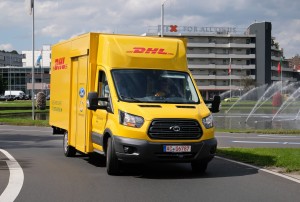 It will have a load volume of 20 cubic metres and provide stowage space for more than 200 parcels. The e-van is fitted with a modular battery system delivering 30 to 90 kWh of power, giving it a range of between 80 km and 200 km.
Some 150 early build e-vans will be manufactured at the StreetScooter plant in Aachen this year. Deutsche Post DHL Group will use the e-vans to support its urban parcel delivery service in Germany. The vans could also be sold to third party customers.
The partners reckon each WORK XL could save around 1,900 litres of diesel fuel and five tonnes of CO2 each year.
"The new StreetScooter WORK XL expands our e-fleet in the commercial vehicle segment, said: Jürgen Gerdes, member of the board of management Post – eCommerce – Parcel, at Deutsche Post DHL.
"It is the perfect vehicle for parcel deliveries in major cities and large urban areas, and will enable us to cope with the rising parcel volumes in an even more environmentally friendly and quieter manner. With this commitment, we are also underlining our claim of being the market leader in green logistics."
And Steven Armstrong, Ford's vice president and president, Europe, Middle East & Africa, Ford Motor Company, said: "We're really proud of this ambitious project, and of the strong partnership we've developed with Deutsche Post DHL Group and StreetScooter.
"This joint project will be Europe's largest manufacturer of emission-free, medium-sized e-vans, and it doesn't come a moment too soon. Buses, cars, and of course, delivery vans play vital roles in our daily lives, but we have to find a way to make them cleaner. This project is a great step along this path."
Deutsche Post already has two vans in the StreetScooter series: the WORK has a load volume of 4 cubic metre while the WORK L has a load volume of 8 cubic metres.