Ford is to begin testing its Transit plug-in hybrid electric vehicles (PHEVs) in Valencia, Spain.
Twenty Transit Custom PHEV vans, are already being used for the 12-month trial in London that Ford launched earlier this year, working with Transport for London and a variety of fleet customers, ranging from the Metropolitan Police to courier services and construction firms.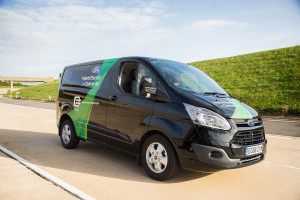 The collaboration between Ford Smart Mobility, the regional government of Valencia and the Valencia City leadership, is designed to see how Transit Custom PHEV fleets could contribute to cleaner air targets and enhanced productivity.
Steven Armstrong, president and CEO, Ford of Europe, Middle East & Africa, said: "As no two cities are alike, it is vital that we look at the mobility issue from a variety of perspectives. Our research in Valencia will help us gain a meaningful understanding of the benefits that small and medium fleets running primarily on electric power can bring."