Ford has formed a partnership with Gnewt by Menzies to trial a new digital delivery service that will co-ordinate multiple modes of transport.
During the trial, Gnewt's last mile delivery service will be driven by Ford's cloud-based, multimodal routing and logistics software MoDe:Link, that manages all aspects of parcel delivery from depot to doorstep.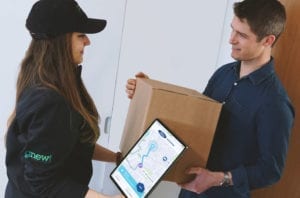 The "warehouse on wheels" concept is designed to be compatible both with Ford vans and those of other manufacturers. These vans then act as dynamic delivery hubs that collect orders from a depot and then briefly stop at strategic locations determined to be the most efficient for each batch of orders. Ford's proprietary software platform coordinates with nearby foot couriers – or potentially with bicycle couriers, drones and autonomous robots in the future – to fulfil the last leg of each delivery.
Ford reckon this could help couriers, fleet managers, logistics and food delivery companies optimise processes and increase van utilisation.
"Our goal is to keep larger vehicles like delivery vans operating in the high-load, less-congested environments in which they perform best," said Tom Thompson, project lead, Ford Mobility.
"However, for the last mile of a journey into an urban area, where congestion and lack of parking can be a challenge, it makes sense to offload deliveries to more nimble, efficient and cost-effective modes of transport."
_________________________________________________________________
Gnewt will be exhibiting at the City Transport and Traffic Innovation exhibition. You can register here.