Temperature-controlled specialist FreshLinc has ordered 60 Scania R 450 Highline 6×2/2 mid-lift axle tractor units.
These are scheduled for delivery towards the end of the year and will be supplied together with three year repair and maintenance contracts.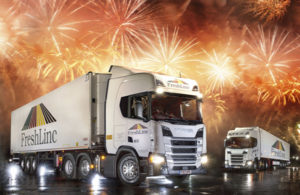 FreshLinc has operated Scanias since 1996. Fleet engineer Andrew Marchant said: "We will keep the trucks for three years, running them as trampers in year one, during which time their drivers will live in the cab throughout the week. Thereafter, the trucks will move to double-shifted night and day running to bring their mileages up to our projected figure of 180,000 kilometres per year."
"We already run a number of new generation Scania trucks and have been impressed with their fuel returns, which have contributed to a marked price-per-week reduction in our transport operating costs."
The majority of trucks in this order will be based at FreshLinc's Spalding headquarters operation, with the remainder being allocated to Manchester, one of the company's eight outbases around the country. The vehicles will run primarily on refrigerated operations, but will also haul curtainsiders and containers as and when required.