The Freight Transport Association has acquired the business and certain assets of Warrington-based Tachodisc Limited, which went into administration last week.
The business has been acquired through TDUK, a wholly-owned subsidiary of the FTA and will now trade under the TDUK name.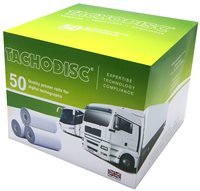 The FTA's director of operations, June Powell, will oversee the business. Staff and customers of Tachodisc, which specialises in the compliance of tachograph rules and laws, are being informed of the new arrangements after the company went into administration.
FTA chief executive David Wells said: "I am delighted to be able to announce that FTA has acquired the business and certain assets of Tachodisc Limited, which fits well with FTA's current services and operation. This acquisition will help ensure the industry remains compliant."