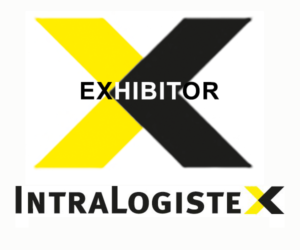 During the first successful day at the UK's best intralogistics show, IntraLogisteX, Logistics Manager's Michelle Mooney caught up with Simon Houghton, Head of Sales and Marketing UK & Ireland at Geek+.
Geek+ was busy showcasing several solutions, including its tote-to-person picking solution RoboShuttle (pictured below) and high-density storage solution PopPick. The RoboShuttle tote-to-person picking solution can achieve high-density warehouse storage with its narrow aisle design,  and high picking, storage, and operating efficiency.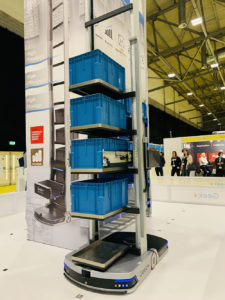 Meanwhile, PopPick the company's new goods-to-person solution, which pairs an upgraded moveable shelf carried by mobile robots with the industry's first dual-unit picking station. As an all-in-one solution, PopPick creatively combines picking and storing totes, shelves, and pallets. With advanced AI technology and smart autonomous mobile robots (AMRs), PopPick can increase warehouse picking efficiency to up to 650 totes per hour and optimise throughput capacity by a factor of two.
The company's technologies all focus on different storage and picking solutions have one thing in common – the benefits AMRs can bring, such as increased efficiency.
"AMRs also provide a safer environment in which to work because they're predictable and reliable," says Houghton.
And when it comes to sustainability, he adds that the technology only uses electricity when they "wake up", so energy is not wasted while the machines are not in use.