GEFCO has started to import and store cars at the Port of Ramsgate for onward distribution across the UK, in a partnership with Thanet District Council.
Its first shipment took place this week – which involved transporting 1,000 cars from Belgium. The council has dredged the port, while GEFCO has invested in storage systems and physical security at the port.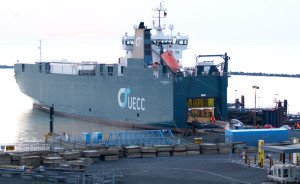 "I am pleased to confirm the first shipment of 1,000 new vehicles into the Port of Ramsgate," said John Stocker, finished vehicle logistics director at GEFCO UK. "The vessel sailed from Zeebrugge, Belgium and is the first in a new shipping schedule between these ports.
"This new service is a result of several months of planning and co-operation between GEFCO UK and Thanet District Council and we look forward to a continuing mutually beneficial partnership."
Cabinet member for regeneration and enterprise services, councillor Hunter Stummer-Schmertzing, Thanet District Council, said: "It's fantastic to see another business operating out of the Port of Ramsgate.
"This new operation uses the port's existing infrastructure and a portion of the freight and car lanes, all of which are ready to accommodate this new business, without compromising additional new ferry opportunities. This is a great message that the Port of Ramsgate is open and ready to do business and that the industry is recognising the potential opportunities that our facilities have to offer."