Gefco is targeting the motorcycle industry with a new system to track the cradles used to protect motorcycles as they are moved from factory to dealer.
It has partnered with Actility and Wakeo to develop the solution pointing out that the cradles are not easy to track and are sometimes lost or stolen, which reduces manufacturers' fleets and leads to delivery delays.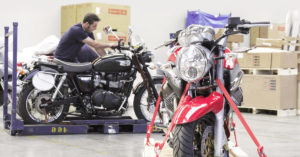 Actility provides LoRaWAN solutions – a low power wireless protocol for wide area networks that allows devices to communicate with IoT applications over long-range wireless connections with extended battery life.
Wakeo provides an SaaS platform to bring real-time visibility on B2B multimodal transport flows. It can predict times of arrival and sends proactive alerts to enable operational teams to anticipate delays.
Smart trackers provided by Actility are installed on the cradles to provide location information with an accuracy up to three metres and a battery lifetime of some seven years.
Tracker data is then collected via the LoRaWAN networks and analysed on the Wakeo platform. This updates the motorcycles' estimated arrival time at the dealer's facility in real time.
The platform also allows the user to locate the cradles, showing if and when they have been delayed.
Emmanuel Cheremetinski, Gefco's EVP Inland, said: "The integration of these two innovative solutions will give Gefco customers a comprehensive overview of their flows. They will benefit from real-time, predictive, cost-effective, energy-efficient and sustainable solutions for managing logistics resources and complex supply chains."