GEFCO is undertaking trials on behalf of BMW to assess the reliability, lead times and quality control of a 'Silk Road' solution for transporting cars in containers by rail from Europe to China.
It has worked with container racking specialist Trans-Rak to equip containers to move cars with minimum handling, zero damage and optimal loading.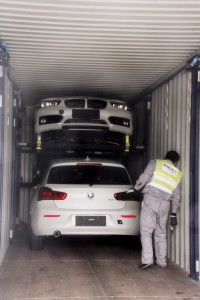 The pilot operated in November last year proved successful and now a second trial shipment of 40 vehicles has been completed, moving the vehicles from Regensburg to Chengdu within just 15-17 days, compared to 55 days by sea.
GEFCO is particularly well placed to develop Europe-China rail services as its majority shareholder is RDZ, the Russian railway operator.
Paul Donaldson, managing director at Trans-Rak, said: "The challenge for automotive manufacturers exporting into vast regions like China has been that the ports are situated in the West of the country and there is a lack of infrastructure.
Traditionally, the solution has been to ship vehicles to the Eastern seaboard, but the opening of a new Inland Freight Terminal in Chongqing has for the first time made a pan-China road and rail solution viable, which reduces lead times, saves costs and is sustainable.