Geodis has opened a 15,000 sq m distribution centre in Paris designed to support an urban distribution system using logistics bases across the city with delivery by electric vehicles.
The new Paris-Bercy depot is located in the 12th arrondissement near Porte de Charenton.
It will support a network of "blue bases" – 1,000 sq m facilities in the city centre which serve as relay points for last mile deliveries.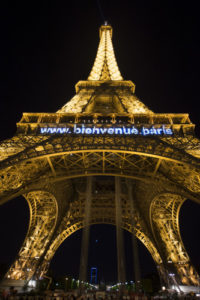 Two blue-bases – Boulevard Ney in the 18th arrondissement and Bercy in the 12th – are already up and running. Three more – Forum des Halles in the 1st, Invalides in the 7th and Porte de Versailles in the 15th – will complete the strategy over the coming months.
"Our new site is both one of a kind and doubly strategic," says Olivier Melot, Executive vice president, distribution & express at Geodis.
"One of a kind, because taking a clean slate and an empty warehouse, we have designed and implemented an unprecedented network, based on a blue-base system, which is located as close as possible to our Parisian customers. Strategic, because the new development strengthens our position to serve central Paris and validates our urban delivery solution, which will be that demanded by the cities of tomorrow. What's more, we will be introducing 30 additional electric vehicles in the coming weeks."
The new 15,000 sq m Parisian site also features two new sorting lines, an overhead line capable of sorting 2,500 parcels an hour and a ground line used for pallets, operating at a rate of 200 pallets an hour. With this new technical equipment, the depot is capable of initiating 3,000 deliveries a day, or 8,400 parcels.