Practical platooning trials have started in Germany in a project involving DB Schenker, MAN Truck & Bus and Hochschule Fresenius University of Applied Sciences.
The first two trucks set off on 25th June from the DB Schenker branch office in Neufahrn near Munich via the A9 digital test field to Nuremberg.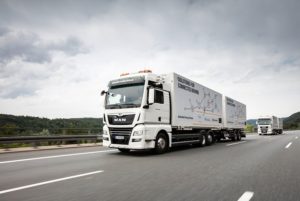 The German government is providing €2 million funding for the project. Federal transport minister Andreas Scheuer said: "This is a visionary research project for our digital test site, the A9 highway. The project marks the start of the automated and networked future of road haulage. We bring tomorrow's technology onto today's roads, testing the intelligent interaction of man, machine and material. Our opportunities: logistics processes—from ramp to customer—can become safer, more efficient and more environmentally friendly. And truck drivers can become modern logistics specialists in digital trucks."
The regular test runs of the networked trucks began on 25th June along the 145-kilometer route.
Trials are being carried out without any loads until early August. After that, the platoons will be on the road every day, making up to three routine logistics trips and laden with part loads of, for example, machine parts, drinks, or paper
MAN chief executive Joachim Drees said: "It's not just about using a technology. It's about integrating it effectively into the entire logistics chain. The findings from the joint project are an important step towards series development. This will give MAN a leading role in the automation and digitization of commercial vehicles."