Gregory Distribution has acquired Aberdeen-based ARR Craib Transport, which operates the Scottish hub for Palletline as well as serving brands such as Baxters, Walkers, and Brew Dog.
Craib turns over some £50 million a year, operates more than 275 vehicles and employs some 400 staff.
As well as the Aberdeen headquarters, it has operations in Cumbernauld, Stockton and Great Yarmouth.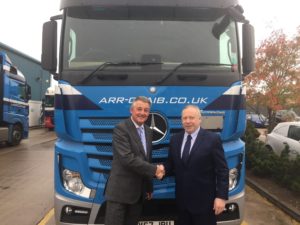 Initially the business was linked to the paper industry and thereafter developed as a major supplier to the Oil and Gas industries.
The acquisition will complement Gregory's joint venture in Scotland, Hayton Coulthard.
John Gregory said: "We are very pleased that Eddie Anderson will be staying on as chief executive of Craib's which will remain as an independent company. Our companies are culturally aligned and share the same principles. This coupled with Eddie's relationship with his customers, his vast knowledge and experience and his enthusiasm for our industry make this a perfect addition to our ever developing group."
Eddie Anderson said: "As two private, like minded, companies operating in similar sectors it seemed an excellent opportunity for Craib's to become part of a larger organisation. We feel very comfortable with the arrangement and look forward to Craib's prospering beside Gregory's."