E-fulfilment specialist 3PL Hallmark Consumer Services has deployed SnapFulfil WMS across the three levels of its 40,000 sq ft in Melton Mowbray, Leicestershire.
As part of the deployment Hallmark will also use SnapFulfil Pack Station functionality caters for all labelling, coupled with Metapack capabilities, it provides carrier rate shipping to ensure the best value carrier is always used.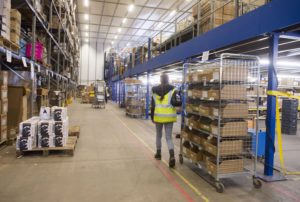 Phil Hall, MD at Hallmark Consumer Services, said: "We have an entry point system in place, but in taking the business to the next level recently – and coinciding with the new mezzanine floor – realised a much more advanced WMS was required with cloud benefits and architecturally robust, so that the hosted solution performs consistently and reliably in real time.
Hall said that the business required a lot more set up and configurability options as well – but without being cost prohibitive. He also said that Hallmark required a support team it could work in tandem with, and on a much more proactive and flexible basis.
"SnapFulfil has delivered in every aspect and aside from these much welcome operational improvements, the transition has been fairly seamless and the support service excellent," Hall said. "We had a dedicated in-house team testing the operating procedures with their project management team, through peak demand periods, and they all remarked how easy the new system was to pick up.
"Minimal training was required on the handheld devices and the shift from onerous manual and paper-based procedures to digital automation has been a god send – particularly for goods in – where we've been able to tangibly improve labour efficiencies straight away."

SnapFulfil (stand 320) is exhibiting at IntraLogisteX – the UK's only intralogistics show in 2020 – which takes place on the 31st March and 1st April 2020 at the Ricoh Arena, Coventry. Register your interest now at www.intralogistex.co.uk