Toyota (GB) has appointed Chris Hayes director of vehicle planning and logistics. For the past three years he has been with Toyota Motor Europe in Brussels with responsibility for European pricing strategy and operations.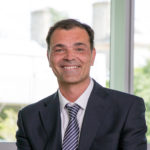 He said: "The UK already represents the largest volume Toyota and Lexus market in Western Europe and provides unique challenges and opportunities. With the launch of key new generation models in 2019 (Auris, RAV4 and UX) we are looking forward to growing our brands and accelerating our sales of petrol hybrid electric technologies."
Hayes joined Toyota (GB) in 2003, holding various field-based roles before becoming marketing manager with Toyota Motor Sales US based in California.
He returned to Toyota GB to lead both the sales planning and vehicle marketing teams before promotion to marketing director in 2013.