House of Fraser has cancelled all online orders and is refunding customers in the face of an impasse in its payments dispute with XPO Logistics, which was owed £30m when the HoF business went into administration on 10th August.
HoF was bought out of administration by Sports Direct, in a deal that included all UK stores, the HoF brand, and all the stock in the business.
As a creditor of the old HoF business XPO is owed more than £30 million, according to the administrator's Statement of Proposals which was published by EY on Friday. In total suppliers to the old HoF business are out of pocket to the tune of some £480 million. Home delivery company Yodel is is another major creditor – it is owed almost £711,000.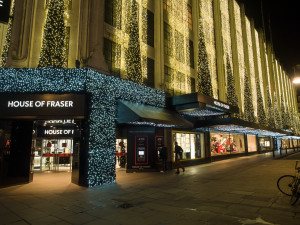 Under the terms of the deal with the administrators, Sports Direct is not liable for these debts, but it is currently holding talks with suppliers of House of Fraser to come to some kind of accommodation.
However, XPO, which operates the HoF distribution centres at Milton Keynes and Wellingborough, is believed to be looking to Sports Direct to honour its original contract with House of Fraser. No work has taken place at the distribution centres since the HoF business went into administration, although staff have been turning up for work and are being paid.
Neither Sports Direct or XPO will speak on the record about the dispute, but sources close to the Sports Direct camp have suggested that XPO is "trying the hold the new owners to ransom" and is "being totally unreasonable".
It is understood that, as of Friday (17th August) there were no plans for the two sides to meet.
As a result of the dispute, the House of Fraser web site was suspended earlier this week and on Thursday (16th August) the retailer used Twitter to tell customers of the decision to cancel orders, saying: "Due to delays with delivering online orders, we have taken the decision to cancel and refund all orders that have not already been sent to customers. All customers affected will receive an email in the next couple of days. Please accept our apologies for any inconvenience caused."
---
https://twitter.com/houseoffraser/status/1030125197473599488
---
Other suppliers

Sports Direct has made some progress in its talks with other suppliers. In a statement released on Thursday, it said: "Since the acquisition, the group has started meeting with various House of Fraser suppliers and concessions. Sports Direct is committed to creating stability as soon as possible, and building exciting plans for the future. This effort has already begun to bear fruit. A good example of this is Massarella Catering.
'Massarella Catering Group Ltd, a family business based in South Yorkshire operates 120 coffee shops and restaurants within the retail sector, 47 of which are situated within House of Fraser stores. Massarella have a strong, historic relationship with House of Fraser which dates back to Sir Hugh Fraser's reign.'
The statement quotes Mark Massarella, managing director saying: 'Following the administration of House of Fraser last Friday and the acquisition by Sports Direct, I met with Mike Ashley and his team on Monday to clarify the implications. I can report that we had a positive meeting and have reached an agreement to continue trading all of our restaurants within House of Fraser. Although this does not overcome all the difficulties that we have sustained through the administration of House of Fraser, I am hopeful that we will be able to retain more of our business than we had originally expected under the previous CVA proposal. We have agreed terms with Sports Direct which now stabilises the company's situation and gives us the opportunity to continue trading all the Coffee Shops within the stores. I was impressed with Mike Ashley's aspirations for House of Fraser, coupled with the level of funds that he is proposing to invest which should breathe new life into many of the stores.'