Healthfood and health supplement company Holland & Barrett has had to expand its distribution centre in Burton-on-Trent to deal with a 400% spike in orders.
It is currently hiring 200 temporary warehousing staff just to fulfil the online orders at its DC in Burton on Trent. Dedicated space within the building, which had been earmarket for expansion of store ordering, has now been given over to fulfil the online requirements and is being run by DHL Supply Chain.
Holland & Barrett struggled initially to cope with the increased demand and reduced its product lines dramatically to clear its backlog. There are no next day or timed delivery slots promised going forwards.
"Like many omnichannel retailers, over the last two months we have seen an unprecedented increase in demand for online orders at 300%-400% of the normal level," a spokesperson said.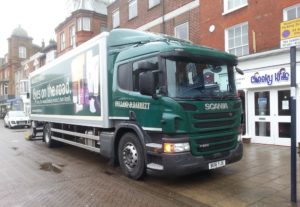 "As a result, we have been working tirelessly to increase our capacity to accommodate this extra demand. However, this has led to a delay in the timeframe and service that we would usually deliver customer orders.
"We have tripled our delivery capacity over the last three weeks to fulfil orders and currently have 50 stores operational for home delivery [in addition to the space for order fulfilling in Burton on Trent], which are helping to reduce our order levels. Additionally, we took the decision to remove a significant number of lines from sale for a short period in order to manage demand and prioritise existing customer orders. All of these lines have now been reinstated.
"However, we are aware that some customers have had to wait too long for their order and we sincerely apologise to anyone that has experienced these delays. We have communicated to all customers affected to update them on the situation over the last few weeks. Our customer service team has received an extraordinarily high volume of order queries as a result of delays and are working day and night to answer these. We have now also employed an extra 150 people into our customer contact centre to help ensure a shorter customer wait time for a response.
In a statement Martin Willmor, MD Specialist Services, DHL Supply Chain, added: "Retail and consumer brands have had to make an overnight switch to a new way of serving customers. For many, especially those who have had to create an e-commerce proposition from scratch, this has been a steep learning curve, but even those with established e-commerce operations have found it challenging to meet online demand and keep their customer service promises. Our hope is that this service supports the retail and FMCG industries through the immediate crisis and gives them a route to recovery."
In November last year Holland & Barrett said it would be using Paragon routing and scheduling software as part of a restructure of its store replenishment operation.
The retailer supplies its 900 store locations across the UK from its warehousing and international distribution centre in Burton-on-Trent.